Our Paranormal Experiences
Martin, Andy and Dave
The Cosmic Conspiracies Investigation Team
All three of the authors who contribute to this website have encountered strange phenomenon throughout their lifetimes, which range from UFO sightings to ghostly apparitions and poltergeist activity. That is the main reason why this site exists - to share and exchange our experiences with other likeminded readers. Dave, the founder of 'Cosmic Conspiracies' has seen numerous UFOs, the most impressive of which happened in December 1999 (which you can read about here), and some strange supernatural experiences which mostly occurred in his younger years. Martin seems to attract Ghosts, seeing them on an almost daily basis. In fact, so frequent has his encounters with the unknown become, he decided to pursue his interest further by joining a local spiritualist church in mid 2004, or should we say that the spirit world actually chose him to pursue this path further? On Martin's first visit to the Spiritualist Church in April 2004, he was approached by the medium at the end of the evening and was told that he had great potential to become a medium himself. The medium asked if she could personally train him to be a medium. She also mentioned that she had never seen so many spirits turn up to welcome a person to the Church! Since that date Martin's Ghost count has risen to over 50!
The team that brought you 'Cosmic Conspiracies' and 'The Dark Star Theory' are currently embarking on a brand new research project. Authors Andy Lloyd, together with Dave and Martin Cosnette are collecting evidence for a book about ghosts and the paranormal. We are already gathering some remarkable evidence and some incredible photos! The book will include other paranormal events, including psychic phenomena, UFO sightings and supernatural tales.
If you have any ghostly stories to tell, please contact us by e-mail or phone:
Telephone: 07963 961706
---
Did you know?

Over the past few years we have conducted some very successful ghost hunts - which so far has resulted in Martin witnessing a ghost pushing one of our guests during a ghost walk of Prestbury (alleged to be the most haunted village in the UK). At the very same time, the person who was pushed took what must be one of the best orb pictures we have seen. We have heard ghostly footsteps, photographed many orbs and have captured what appears to be a ghostly apparition on an old battlefield in Tewkesbury, Gloucestershire. We have also photographed numerous strange anomalies which we think might be ghosts or other spiritual entities.
We present our findings here and continue to update these pages as our research delves further into the World of the unknown!
Andy's House
All images are thumbnails - please click to enlarge - hover mouse over pictures for a brief description.

Andy has encountered some very strange events in his household within the last couple of years which defy simple explanation. There have been many spooky happenings at his house, which is situated a couple of miles outside of Gloucester City. Many of them have been witnessed by Martin and Dave, including ghosts, apparitions, 'shadow people' and orbs. But they are not the only ones. Andy's wife has had numerous unusual experiences, and even the children have, as well as other visiting friends. The house was built in the 1930s. Whatever presence/s may be in the house, they do not appear to be malevolent, and may actually be relatives who have passed over. Indeed, there is considerable evidence to suggest just that. Digital photos taken in the house have shown some phenomena that are certainly intriguing in their own right and we would like to share those photos with you here:
These blue orbs were captured by digital camera during the summer of 2004. Picture 1 shows Andy sat at his computer, with a bright blue orb standing out beautifully against the piano to the right. Picture 2 is an enlargement of the orb, showing its translucent qualities. Another greenish orb is shown in picture 3, this time above the picture rail. If the anomaly in picture 4 is a 'lens-flare', it is a very unusual one: it seems to be wispy and multi-coloured, suggesting something more bizarre. Martin asked a local psychic to take a look at this photo and she saw a woman in this photo with 'speckled hair'. Picture 5 is another shot from Andy's house showing orbs, this time in the winter. It also has this rather pronounced out-of-focus effect; the digital camera is focused upon the candle-holder on the table in the foreground. Still, it's a little odd for a digital image, and the yellowish lighting adds to the phantasmagorical effect! Later in the evening Martin saw a large bright blue orb in the vicinity of this sofa in the backroom. Coincidence? Shot 6 was taken at the same time as the out-of-focus picture 5, and is of the same area. but did not suffer the same effect? Picture 7 shows a very clear orb, again by the picture rail. Shots 8 and 9 are very interesting. The pictures were taken in sequence with not more than a second between them and yet the orb in picture 8 has completely disappeared in picture 9?
We were recently featured in The Western Daily Press on January 27th, 2005. We had been contacted by a couple from Devon in early January regarding their ghostly experiences and eventually met up with them in Gloucester a few weeks later on an interesting night that ended with a ghost walk that produced some very interesting results. You can read about what we encountered here.
Here is the newspaper article in full.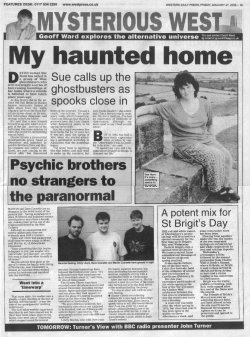 Martin and Dave Cosnette are no strangers to the weird world of the paranormal - having experienced it since childhood and launched serious investigations more than a decade ago, making their group one of the longest-established in the West Country. Although an unassuming and quietly spoken pair, they are evidently men with a mission.

"Dave and I have had paranormal stuff since we were young children, " said Martin, 42, of Abbeymead, Gloucester.

"Once something like this begins to happen to you, you wonder why, you wonder 'is it just me?', and then you want to find out what it really is all about." Martin saw his first ghost at the age of 14 when the family were living at Hardwicke, near Gloucester. A woman in Victorian dress walked across his bedroom and vanished into the wardrobe.

That same night, his mother saw a ghostly couple standing at the foot of her bed, holding hands - it was the date of her grandparents' wedding anniversary.


The first other-worldly experience that Martin and Dave shared was in their later teens when, alone in the house, they went into a "timewarp" which stopped sound for several minutes. Strange happenings have followed the brothers ever since. "It's so frequent now that sometimes we don't even think about it, " said Dave, 38, also of Abbeymead.

The Gloster Ghosts team have recorded some odd phenomena in and around Gloucester, including strange shapes, lights and other emanations - and one photo they took appears to show the ghost of a soldier in period dress on the War of the Roses battlefield at Tewkesbury.

"We go to different locations, not necessarily ones which are supposed to be haunted, and see if there is any activity there, " said Martin. "We photograph activity and take different readings. " Lately, Martin, who with Dave runs the family aquatics business, has been developing his mediumistic abilities, regularly sitting with a spiritualist circle in Cheltenham.

After one such meditation, Martin noticed a man in a corner of the room who turned out to be the dead father of the medium leading the group.

"He was as clear and solid as you, " said Martin.

Gloster Ghosts are collecting evidence for a new book on hauntings and the paranormal. If you have a spooky story to tell, they would like to hear from you either by e-mail at gloster_ghosts@hotmail.com or by telephone on 07963 961706.
---
Devon woman Sue Hunt has called in a group of West ghosthunters who will investigate a series of hair-raising hauntings at her home where a suicide is believed to have taken place years ago. At Sue Hunt's flat in the ancient Old Bell House in Market Square, Axminster, flashes of light shoot from the walls, vapours rise from the floor, furniture moves about on its own, her belongings disappear, and strange noises are heard.

It's said that a man hanged himself in an attic which is now part of the flat - and one of the bedrooms was room number 13 when the centuries-old building was an hotel.

Gloster Ghosts, a paranormal investigations group based at Gloucester and launched by psychic brothers Dave and Martin Cosnette and author Andy Lloyd, are now coming to the rescue after Sue discovered them on the internet. "I'm not a crank, " she told me. "It's quite scary, really, what's happening.

I have gut feelings that there's a presence here, but I don't know what. Something seems to be saying 'we're here'." Sue, 44, a legal secretary, has lived in the flat for 10 years but it was not until the spring of 2004, when she started attending a spiritualist workshop in Axminster, that the hauntings began.

"I'd never been to anything like that before, and only went to make up the numbers, but now I wish I hadn't, " she admitted. "I'm a down-to-earth woman. I'm not a medium. I've had no experience of mediums or clairvoyants, although my mum used to say I had a sixth sense."

BUT in 1994 Sue had a near-death experience when stricken by cancer. "Afterwards I was so grateful to be alive, " she said.

"It opened my eyes and I became more attuned to things. It changed my life."