LOCAL UFO SIGHTINGS
On this page you will find accounts of UFOs from our home county of Gloucester, UK. Including our own sightings.
Some of the following stories first appeared in our local newspaper 'The Citizen'
Strange Lights Spotted Over Gloucestershire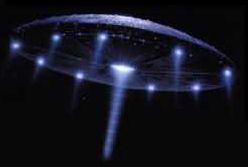 Once again our home County of Gloucestershire has been buzzed by strange lights in the sky with several witnesses contacting the local newspaper 'The Citizen' with sighting reports over the Stroud area. Reports first surfaced in the paper on Saturday 27th of January of a mystery object in the skies over Cainscross, Stroud.

One onlooker was so concerned about what he saw he alerted the UFO group Contact International UK. The group's spokesman Michael Soper said: "The eyewitness said it was more like a 5p at arms' length,

"It was a very unusual coloured object seen moving over Cainscross, from north west to south east. He reckoned it was going about 40mph. There was no sign of sparks or smoke and it was silent. He was very impressed as it was absolutely huge. It was staggering really.

"He called the police and they got through to us." The object disappeared from sight as it passed over Rodborough Fort at around 8.20pm.

The man who reported the sighting and who did not want to be named said: "It appeared to be quite low in the sky and not at all fast moving. I was watching TV and caught it out of the corner of my eye. There was no noise. I wasn't frightened and I hadn't been drinking."

Police spokesman Matthew Ford said they were told three flares were let off on nearby Selsley Common at 6.30pm. But the UFO spotter was adamant his sighting was not linked to them.

It is not the first unexplained sighting in the skies over the Stroud district. Chris Howley, 37, from Nailsworth, a member of the Gloucestershire Paranormal Research Group, claims he saw a UFO on July 6, 2005.

On January 3, 1998, Bussage man Joel Collins reported a strange shape in the sky. And in 1645, the "Standish Incident" shocked farmhands in the village, who believed they had seen what we would know now as a rocket land and take off.
The newspaper also featured a follow-up report on February 7th about a sighting near Dursley.
Mysterious lights stunned motorists in the middle of the night. One even pulled over on the A38 between Berkeley and Dursley to watch what they believed was a spacecraft hover 200ft above the ground.

"There was a row of four or five white lights along the side and red and green lights up above," said Alan Woolams, 49, of Water Street, Dursley.

Only when he saw The Citizen's recent report on a similar sighting in Cainscross did he realise its significance.

He was taking his daughter Sally, 27, home to Fishers Road in Berkeley at 3am on Saturday, after she had finished waitressing in Dursley. "She said 'What's that?'," said Mr Woolams. "It was alongside the A38 between the Prince of Wales hotel and Berkeley Heath, between the road and the motorway.

"The car in front stopped in a gateway but as I was taking my daughter home I carried on. "After I dropped her off and came back, it was not there." He ruled out the possibility of it being a police helicopter. "It has just one bright light," he said. "This had four or five and it was about 20ft long."

Citizen reader Mel Gaston from Lightpill, Stroud, also reported a similar sighting to the latest Cainscross sighting around two years ago.

Contact International UK , which was established in 1967, has taken 80,000 reports of UFO sightings.

To report a sighting, call them on 01865 726 098 or e-mail fc@fcaccs.fsnet.co.uk
This report is courtesy of The Citizen Newspaper © 2006
---
This week has brought forth a stunning UFO report in the neighbouring county of Worcestershire. A BBC cameraman caught some mysterious lights on film in the skies above Hanley, near the Malverns. This report on the BBCi website takes up the story:

"A BBC cameraman spotted three bright lights in the sky over the Malverns near the village of Hanbury on Tuesday and filmed them with a video camera. Some thought it could have been flares. But cameraman Tom Hines, who works on the BBC drama series 'Doctors', said he is convinced it was a UFO. "I kind of saw two bright lights and thought they were stars at first," he said. I pointed out where they were and started filming. They started disappearing and reappearing and at one point there was (sic) three bright lights. They kept appearing very randomly in different areas of the sky."

John Dawson, who lives in Hanbury, also saw the lights. "We went through all kinds of evaluations, like could they be fireworks, could they be flares and to be honest with you we couldn't come to any decision as to what they were."

BBC Midlands Today's science correspondent David Gregory has examined the tape and has spoken to local UFO experts. He said: "It could have been the Hanbury Orbs, which are a series of lights which are known to hover above the landscape in this area. But nobody knows for sure.""

Media interest in the UFO phenomenon continues unabated, despite speculation last year that the whole subject was now 'dead'. Of course, when it's the BBC itself filming UFOs, their interest is bound to be a little more piqued! While this sighting occurred just over the county border, Gloucestershire is no stranger to UFO encounters. Dave and Martin, and their sister, were witness to a remarkable UFO encounter when a well-lit structured craft flew low over their house in Hardwicke, south of Gloucester. This occurred back in the late 1970s, a time when UFOs seemed to regularly appear in the skies above Gloucestershire. The Cosnette's have since witnessed multiple UFOs of varying description, including another very large structured craft of which you can read about below.

In the July issue of UFO Magazine, Gary Heseltine, a Detective Constable in the British Transport police, published four reports by serving police officers from the county. Gary Heseltine runs the PRUFOS Police Database:

Case 29 (1975): "At 12:10am, an off-duty uniformed police officer was sent to investigate reports of a stationary light above the police radio mast on the top of Cleve (sic) Hill. As he made his way up a narrow road toward the mast, he saw a large, bright UFO hanging stationary to the right and above the mast. His police vehicle's radio went dead, as did his personal radio. He watched the light for a few seconds before it silently moved away following the contours of a nearby ridge. He returned to his vehicle and set off to pursue the light. At one point the UFO crossed the road on which he was travelling. For reasons he still cannot explain, the officer flashed his car headlights and immediately the object disappeared out of view at tremendous speed. Moments later he saw another marked police vehicle and his fellow officer corroborated that he too had witnessed the UFO shooting across the sky at great speed."

Case 34 (1976): At 12:30am, an off-duty police officer observed a huge cross-shaped UFO above the M5 motorway at the rear of his home in Tewkesbury, having just completed a 2-10 late shift at Cheltenham Police Station. The object, which was likened in size to a commercial airliner, slowly rotated above the quiet motorway. He described it as the size of as civil airliner and watched as it began to move slowly across the fields towards his home some 50ft above the ground. It featured a red light at the centre of the four cross arms. At one point the object turned on its side to reveal that it was very thin in depth when viewed side on. He rushed inside to get a torch and flashed it once at the object. The UFO appeared to react and moved slowly back over the motorway where it performed an extraordinary manoeuvre. One arm of the cross remained in a stationary position whilst the craft rotated around its axis. A short time later the object moved off into the distance and out of sight."

Case 36 (1976): "At 1.15pm, prior to starting his shift at 2.00pm, a police officer was driving to Cheltenham Police station along the A38 when he heard an external 'clanking' noise. To his left he saw a 3-pronged UFO which appeared to have a 'barbell' on the end of one of its arms. The object, described as the size of a civil airliner, moved slowly at low altitude before coming to a stop above the village of Deerhurst. The barbell appendage appeared to be transparent and, as he watched fro some two minutes in amazement, his mind suddenly conjured up the image of a humanoid figure. He flashed his car headlights at the object, at which point both it and the figure disappeared."

Case 36B (1976): "Later that year the officer and his then wife observed a large 'flying cross' in the vicinity of Orchard Road and Hesters Way, Cheltenham. It was the size of a 'jumbo jet' aircraft and hovered stationary above a church. On one of the four arms was a red light that flashed four times before the object disappeared from view. The officer is now retired from the Gloucestershire Police."

On page 123 of her book 'The Mammoth Book of UFOs' Lynn Picknett describes this UFO sighting over Gloucester in 1978:

"In the early hours of 11 January 1978, Joan Mandeville-Dell, who lived just outside Gloucester, woke up and went downstairs to get a drink of water, but when she returned she found her bedroom "was glowing pink". Looking out of the window, Mrs Mandeville-Dell saw "an enormous red object like a huge tower with 6 yellow lights, one beneath the other. Hardly able to believe her eyes she looked around for other witnesses, but – due to the early hour – no one was up and about, so she telephoned the police and immediately a young constable visited her house. She goes on: "He watched the object with me, but could not explain what it was. He suggested it might be the television mast at Much Marcle just under 20 miles away, but I could see the mast on the horizon. It appeared as two tinyred dots with no shape at all. The UFO remained in the sky for another hour or so, before disappearing from sight. Mrs Mandeville-Dell reported the sighting to the local newspaper (presumably 'The Citizen' – Andy), who carried a request for other witnesses, but no one has come forward."

All of these sightings occurred in the space of just a few years, which seems to have constituted a 'UFO flap' as far as rural Gloucestershire goes. But more recent UFO incidents have also been widely reported. A security guard working at the GCHQ spy-base in Cheltenham reported a UFO several years ago, and a ball-lightning incident was reportedly witnessed inside some commercial premises in Tewkesbury. 'The Citizen' has featured several UFO sightings above the Forest of Dean to the west of the county. We have also seen intriguing footage of a black orb filmed above Gloucester. We are interested in any further reports of UFO activity over Gloucestershire. Phone us:

Gloucestershire UFO Hotline: 07

503 577739

Green Orb Buzzes Helicopter Over Gloucester 8/2/2001
We received this letter from a reader of this site...

Did anyone report a strange object last night Thursday the 8th February? My extremely sensible son was watching a police helicopter approx. between 7pm to 7.30pm when a "large green ball" suddenly flew low across the sky and directly underneath the helicopter that was hovering approx. above Painswick Road roundabout. It was heading roughly toward Cheltenham then it vanished. From the direction it seemed to have appeared from a flock of Pigeons were flying; he wondered if it had disturbed their roost as they do not fly in the dark? I would guess the direction to have been South West to North East.

I have had a further chat with my son (32yrs). If he held out his arm the size would be about the size of his small finger nail. It appeared suddenly and darted faster than a helicopter at full tilt. He had time to think it was a shooting star, then was able to look at it long enough to realise it wasn't fast enough for that. It was a clear night but the ball was fuzzy without a clear edge as if looking through mist; the colour was pale green.

As we reported a UFO years ago to the Police which was later confirmed unidentifiable, I didn't want to push my luck as a weirdo by ringing again.

COSMIC CONSPIRACIES WERE CONTACTED BY UFO RESEARCHER JENNY RANDLES AFTER WE RELEASED THIS SIGHTING REPORT ON VARIOUS UFO EGROUPS. SHE SAID THAT SHE THOUGHT IT MAY HAVE BEEN A BOLIDE, WHICH IS A KIND OF METEORITE. WE DECIDED TO CONTACT THE JODRELL BANK OBSERVATORY TO SEE IF THEY COULD SHED ANY FURTHER LIGHT ON THIS THEORY AND THIS IS THEIR REPLY:

Dear Dave,
I can confirm that a bright meteor was seen in the northern sky running from west to east last Thursday evening sometime around 7-8 pm as I recall. I actually saw this meteor and it started as a fast-moving bright green light. It took only a few seconds to cross the sky in an arc subtending perhaps 60 degrees and then turned orange in colour and red as it finally fragmented and disappeared. There were several reported sightings from northern Lancashire and across to Yorkshire. I am not aware of any reported sound detections of the final fragmentation. From Cheshire I first saw it at around azimuth 330 degrees, elevation ~60 degrees and it fragmented some seconds later around azimuth 40 degrees and elevation ~20 degrees. These figures are very approximate. I hope this answers your question.

Dr Tom Muxlow
Astronomer, MERLIN/VLBI National Facility
Jodrell Bank


Guard Jim gets an eyeful of UFO 3/6/2000
Sky-gazing security guard Jim Brace is convinced he saw an enormous UFO and will not change his mind even if people make fun of him. The 29-year-old was on patrol at the Unipart depot in South Littleton, near Evesham, just before midnight on Monday when he saw a huge object in the sky. He then watched it for the best part of an hour. Mr. Brace, who said he did not believe in UFOs until the incident, said: "It was partly cloudy and partly clear. This thing just gradually appeared. It looked like a plate, with small domes dotted all over it. Apart from ringing the police and my firm about it, I watched it the whole time." "It was going round in circles every five minutes, although you could only see it clearly for 20 seconds each time." PC Tom Iddon said Evesham police would look into the matter. He said: "We will keep an open mind but it may have been an advertising air balloon which I believe was in the area at the time." Mr. Brace said he was sure it was nothing like a balloon, lights from a laser show or a plane. He said: "I've never seen anything like it and probably never will again. "They could put me in a strait-jacket but I know what I saw and I won't change my mind for anything. "It was massive and impossible to put a size on it. There was also no noise coming from it."

Huge 'boomerang-shaped' object spotted 14th Nov, 1996
Sky watcher Rob Martin is appealing for information after spotting a huge boomerang-shaped object just below the clouds over Gloucester. The 27-year-old saw the mystery object as he gazed up from the back garden of his house in St Paul's Road. He was puzzled because it was silent, bigger than a plane and left no smoke trail behind. "It looked as though there were five little pinpricks of light on each wing," said Mr. Martin.

"It really foxed me at the time - I just couldn't believe it." Mr. Martin spotted the object at 9.10pm on Saturday and went out the following night but there was no repeat performance. Robin Cole, of the UFO group Circular Forum (now disbanded - Dave) said he was waiting to receive a full report of the incident. "There have been a number of reports over the years of boomerang or triangular-shaped objects," said Mr. Cole. "If anyone has seen anything similar we would like them to come forward." The group was alerted to a black boomerang-type object over Charlton Kings at 12.45pm on July 29.

UFO SPOTTERS RECORD BUMPER CROP OF REPORTS 16th Aug 1996
Staggered saucer spotters are on a high after a record six seperate sightings of UFOs were recorded in Gloucestershire last week. Interest has rocketed because of the alien blockbuster film Independence Day and cult TV series The X-Files. And UFO watchers expect even more strange encounters with the first International Skywatch Weekend starting in the county today. One of the most peculiar incidents was spotted about 700 feet up, between Newent and Upleadon, when a small orange oval was seen to move in a left to right sweeping motion. Experts believe this week's activity is not part of the meteor showers which have been spotted outside Gloucestershire. Four eerie white lights were seen over Northway, Tewkesbury. There was a strange object over Bourton-on-the-Water and three UFO sightings in Cheltenham. Members of the Cheltenham-based group Circular Forum will be looking skywards tonight and tomorrow, and urged others to get involved. Robin Cole, the forum's lead investigator, said the organisation was stunned to get six reports in one week. It normally gets that number in a year. "This years Sky Watch comes at a time of increasing UFO reports across the globe and the UK," he said. "Gloucestershire is clearly in on the action. People have come forward with some very interesting reports over the last few months, which we are currently following up." The Newent sighting took place at about 9.15pm on Wednesday. "An orange light, in the shape of a rugby ball was seen going backwards and forwards across the sky from right to left," said Mr. Cole. "It was reported to us by a lady walking her dog. She said it looked just about the size of a 10p piece".

SPY BASE WORKERS SPOT UFO 4th April, 1996
Workers at Britain's biggest spy base were baffled by the sighting of a UFO in the sky above it. employees at GCHQ watched amazed as two bright lights flew at break neck speed over the base in complete silence at 4.30 yesterday morning. Ruby Hoare, of Hucclecote, who works as a security guard at the Cheltenham base, said: "We just looked at it. We weren't frightened. We were just amazed." Ron Jones, from Longlevens, also a security guard, said: "I would say it looked like two stars that had fallen. I have never seen anything like it before in my life. I'm certain it wasn't a comet".

RESIDENTS SEE UFO IN GLOUCESTER SKIES 4th April, 1996
Matson residents couldn't believe their eyes when they saw a UFO hovering in the sky late Wednesday night. Tony Miller(69) of Bazley Road, Matson, one of the six people to have seen the dome shaped object, ruled out the possibility of it being the Comet. He said "I was in the garden at about 9pm when I saw something hovering over Robinswood hill. It was far too big and close to have been a star." Mr. Miller called his neighbour to see the strange object. The object was one main white light with a peanut shaped red light underneath, surrounding that were a number of blue-green lights. They stood and watched it for about two hours, until it disappeared from view, traveling towards Tuffley at about 11pm. Mr. Miller said it could have been a balloon, but wondered why it was traveling so late at night. Neighbour Barbara Philips said: "I saw the same thing a few weeks ago. Even if it was a balloon as Mr. Miller suggested, that doesn't explain the bright lights. I'm not a nervous person but after seeing what I saw, I'm not so sure. You just don't know what's out there," she added. UFOs have been spotted in the area before, said Mr. Miller, but few people report seeing them. "I am not a crackpot, I'm just curious and want to get to the bottom of this mystery," he said.

UFO SPHERE FILMED OVER GLOUCESTER 25th June 2000
The skies over our home county of Gloucestershire are a rich hunting ground for UFO-spotters, who report regular sightings of unusual aerial activity. The picture shown here are from a video taken by Richard Lewis, of Gloucester, who contacted 'The Citizen' (our local newspaper) after he filmed a UFO over the city in June, 2000. He said: "There were two objects in the sky in a south south-west direction from my home near the city centre. The objects were, I estimate, around 30 miles distance and at a height of more than 10,000 feet." At first he thought the objects, over the Newnham-Forest of Dean area, were air balloons, but they began to move apart rapidly in opposite directions indicating some kind of powered movement. "Despite the apparent distance the objects were intensely black. I can't figure out why they disappeared from view as there was only a single high cloud near the objects in an otherwise clear sky."

Interestingly enough, 'Cosmic Conspiracies' was sent an Email from a guy called Eric Demaray in Michigan, USA, the very same week as this report was sent to us by 'The Citizen'. He too had photographed very similar spheres.


It has also come to light that a similar object was filmed over Cheshire and shown on BBC local TV.

UFOs Over Cheltenham

Slightly after 10 PM on the evening of August 1st 1995 Mr. S from Cheltenham stepped into his back garden for a cigarette. The evening was hot with some low cloud to the east and some slight haze towards the south and west and there was only the slightest hint of a breeze to disturb the air. From behind the roof of his house Mr S noticed a bright white light move from the south- east towards the north-west, passing through some of the cloud at one point. The light moved fairly quickly but there was no accompanying sound to indicate that it could have been an aircraft. He dismissed the sighting as just another light in the sky until a few minutes later, at approximately 10.15, he sighted another light, this time a vivid orange-red, moving from the south. At first he thought that it was a burning plane but he soon called his family out to witness this new object which seemed to possess star-like points. It moved slowly across the sky at an angle of around 30 degrees above the horizon (or slightly above the level of the TV aerials on the roof of the house visible from the bottom of their garden) in a curious 'bobbing' motion. The family estimated its height to be around 250 feet although they found this difficult to estimate due to the haziness of the atmosphere and the lack of any guide to its size or distance. They were all agreed that the light was pulsing strongly and that it was considerably brighter than the sodium street lamp which is positioned towards the end corner of their garden. By this time they had scrambled for a pair of binoculars and had trained them on the light which displayed a pulsating outer layer surrounding a reddish orange centre.

'It was like looking into a furnace' commented Mr. S. Since the binoculars revealed a smooth shape the points that were originally seen seem likely to have been some kind of distance effect. After about a minute the object turned towards the south and began to move off in the direction of Staverton and Gloucester. After a short while the light suddenly dropped vertically in the sky (an estimated 100') and then immediately bobbed back up again to its former position and shot off westwards too fast for the eye to follow. Mrs. S was the only member of the group to notice that as the object dropped down a white light was visible on its top edge which seemed to shoot off into the distance as the ball moved down. Needless to say the family were very excited by the event and wondered if the orange and white lights were in any way connected. However they were all stunned when a few minutes later (10.22 to be precise as daughter Amanda had the presence of mind to check her watch) the light re-appeared in almost exactly the same spot. This time additional witnesses were neighbours M and the S's younger daughter Avril. Once again the strange light moved across the sky in a bobbing motion but this time it dropped a smaller orange ball, described as around one- third the size of the main object, from the bottom of the main glow. M, who was watching this process through binoculars at the time, described how this smaller object left a trail of glitter or 'angel dust' behind it as it fell and then abruptly vanished. The main ball moved an estimated 200 yards and then this process was repeated a further three times before the light disappeared as before. This time it did not take an encore.

During this sighting the ball seemed to come much closer to the garden, so much so that Avril became quite frightened. Even the family cat seemed to notice the object and it too seemed agitated. The family were adamant that the blazing glow could not have been an aircraft or helicopter because of the total lack of noise and had been too bright to be a balloon overhead (besides sunset at 500 ft is only a matter of a few minutes after sunset at ground level so there was no sunlight to illuminate the object). Similarly Mr S was aware of the Perseid meteor shower then underway and had been observing the shower for a number of days and so was able to discount a fireball or bolide as a possible explanation. He was scornful of both ball lightning and alien spacecraft as explanations for the phenomenon and so remained puzzled by what he had seen.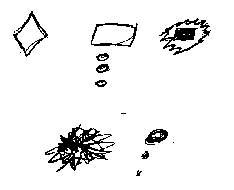 Drawings made by the family at the time are reproduced here showing (left) Mr S's impression of the initial star-like image, the moment when the object dropped the balls of light and the object as viewed through binoculars and (right) two images by Mrs S.

Neighbours of the S family confirmed their descriptions of the mysterious ball, one even independently confirmed Mrs. S's observation of the white light shooting from the upper part of the object as it fell.
The S family as a whole share an interest in what might be broadly termed Forteana and claim a number of previous UFO experiences dating back to the 1960s.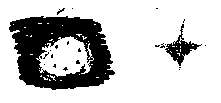 Mr. S has a considerable library devoted to assorted paranormal topics with an emphasis on some of the more sensationalist UFO writers, although he repeatedly stressed his open-mindedness towards what he had seen. Certainly, having had a good number of years experience of sky-watching of various types, he seems to be a reliable witness. In any case they were not the only witnesses to something strange in the sky that evening. The local paper took a number of calls from members of the public reporting bright lights in the sky; so many in fact that the news line stopped counting and recording them. Others reported sightings directly to the police.
Student Zoe - and a friend who were driving through Cheltenham late that night certainly did. They chased the light towards Staverton (coincidentally[?] the site of Gloucestershire airport) before calling in to Cheltenham Police Station. Apparently their testimony was not well received. The S's also reported their sighting to the local press and an item, along with a photograph of the family, appeared in the Gloucestershire Echo on August 3rd. Following this article a number of other witnesses spoke to Mr S and corroborated (to his mind at least) various aspects of the story. One woman said she had seen the white light witnessed by Mrs. S and another described seeing a boomerang-like shape in the sky a few days later. He also received a letter from another witness, G, describing a sighting similar to his own although this took place on July 29th/30th, some days before the widely publicized display. The S's were also featured on an ITV Central news programme featuring an embarrassing reconstruction of the event resembling nothing so much as a cardboard cut out of a balloon lurching across the sky. Immediately following the earliest reports the local publicity machine cranked into action. The Cheltenham Psychic Research Group (at the time recently renamed the Cheltenham Paranormal Research Group and now defunct) quickly organised a skywatch through their local press contacts. This was largely to generate publicity for their UFO Abduction Hotline and was featured on the Central News programme along with the S family. The evening of Thursday August 4th saw over a hundred people fruitlessly scanning the sky from above the town on Cleeve Hill. Their participation was fruitless for two reasons: firstly, nothing was seen hovering above them and secondly, the CPRG had gone home straight after the TV broadcast.
Despite repeated attempts the only information I was able to extract from the virtual event-horizon of the CPRG abduction hotline was that the number of calls had increased 'significantly' following the publicity blitz. Following up on a possible confirmation of the S's observations I arranged to meet with the witness who had written to Mr. S with his experience. The G sighting seems to have been a rather different sort of affair to that enjoyed by the S family however.
On Saturday July 29 G worked his usual 22hr shift as a self-employed taxi driver and returned home. He poured himself a glass of milk and ate a biscuit before retiring to bed at around 2.45AM. This was the first week of the really hot part of the summer and G lay awake in bed staring out through the bedroom window (the curtains are rarely drawn as the house looks out eastwards over open fields) until his attention was drawn to two small ('golf-ball sized') lights moving in the sky. These were shortly joined by a third and the three hovered together until the sky suddenly lit up and a giant ('about the size of my fist') and extremely bright fourth light descended to a point somewhat above the other three lights, shining down onto them. All four objects were of a pure white colour but under the illumination of the largest ball the smaller ones seemed to flicker and displayed a silvery, metallic sheen. G climbed out of bed and moved to the window to get a better view of the spectacle. The larger object remained in this position for some minutes and then slowly moved around the cluster of smaller lights until it was positioned beneath them. Here it waited for around 30 seconds and then shot off to the left (approximately northwards) closely followed by the small lights which trailed after it in a line formation. As the brightest ball receded G noticed that from the rear it resembled a cross shape. All four shapes took only a couple of seconds to disappear from view, moving faster than any aircraft could travel. As the brightest light moved away it illuminated some cloud formations that were visible towards the north ('rather like the effects in a film'). Following this sighting G returned to bed and continued to watch the sky until he fell asleep.
The first thing he did on waking up was to relate the tale to his wife. It was only when he also told the story to his son and his girlfriend some days later that they told him of the reports of the S sighting in the papers and on local TV. G is convinced that he saw a controlled object moving in the sky. He described his mental state during the event as 'alert', although he did say that if anyone had come up and stabbed him with a needle he would probably not have responded due to his total absorption in the phenomena overhead. In fact he became quite upset when I suggested the possibility of his being only partly awake. He reported that no cars passed along the road outside the house during the time he was observing the objects and there was no sound to be heard (although he is slightly deaf and the house has excellent double-glazing). Also, as Sherlock Holmes might have observed, none of the family dogs barked. The G house overlooks Whaddon Rd, home to the Cheltenham Town football ground whose lights are clearly visible from the G's bedroom window. Unfortunately, the ground confirmed that its lights were dark at 2.45 on the night the sighting occurred. I should mention at this point that there are no clocks in the family bedroom so no exact time can be assigned to the sighting despite assurances from the witness although an earliest possible time can be assumed to be the 2.45 mentioned. Could one possible explanation for this report be that Mr. G saw a light or meteor just before falling asleep and then this fleeting glimpse was assimilated into some sort of hypnagogic experience? Note the 'classic' movie feel to the departure of the 'UFO'. There were no particularly bright star formations visible in the eastern sky from the bedroom window that night to account for the formation aspect of the objects movement. On a personal level Mr G has read and seen TV programmes on UFOs and harbours some slight suspicions that 'the ministry' are covering up UFO sightings and discoveries. He told few people about the sighting for fear of ridicule and was relieved to see the S case widely reported which was why he contacted them. Note that his testimony (whether of a 'real' or 'imaginary' event) is coloured by various images from assorted standard UFO reports.
Things normalized for a while until Tues Sept 5th when I received a phone call from Mr S to the effect of 'You won't believe this but it's back again'. This time the S's, along with at least half a dozen other witnesses, described a vertical cigar-shaped object which dropped a number of the smaller light balls in groups of three or four at a time. Ironically, one of the first to sight the light this time was Mrs. S's cousin T who telephoned from her flat a few streets away to warn them after she had spotted it while out walking with friends. She described it as a vertically-arranged cigar shaped orange light that dropped two glowing embers 'like charcoal' which dimmed and faded away as they fell. The oval shape seemed to be at a height of about 250 feet, below the clouds and with the moon shining somewhere behind it. Meanwhile the S family were observing the light through binoculars and resolved a ring of small bright points around the base of the enigmatic object. They too observed the mysterious dropping of a number of balls of light, up to ten by one account. The family made independent sketches of the object which show a remarkable similarity to their earlier illustrations .Due to adverse reactions from friends and family after the publicity arising from the first sighting all the parties involved this time around declined to report this second encounter which is why, in deference to their desire for minimal publicity, I have kept all witnesses anonymous. I do have full details on file and, as mentioned, a number of them have featured in various media reports locally and as such are within the public domain.
This publicity-shy attitude would tend to argue against a deliberate hoax from the family, as would the time and trouble that they were prepared to spend describing their experiences, even down to gathering together neighbours to corroborate their testimony. So what was it? Unfortunately the sky around Cheltenham is free air space and, as such, is neither controlled nor monitored by Gloucestershire Airport, so tracking exact movements of aircraft across the area is rather difficult. A phone call to the newly established West of England Police Aviation Unit revealed that the new Avon and Gloucestershire Police helicopter had been in operation in the area on the night of the second sighting; unfortunately it had not come anywhere within 10 miles of Cheltenham although it is just possible that a distant sighting of the helicopter searchlight visible from the Gloucester area could have contributed to the second event . This would seem to be stretching credulity somewhat as the light would have been shining from completely the wrong direction and in any case would have been far too dim to be described as such a bright object. The sheer volume of air traffic passing over the area, both pleasure balloons and aircraft from Gloucestershire Airport, makes a mundane aircraft a possible explanation of course but the erratic motion and strange 'droppings' are hardly characteristic of any kind of airborne vehicle. The whole case is still currently, if you will pardon the pun, up in the air and I am still trying to track down further witnesses to both observations to obtain (possibly) confirmatory testimonies from a different point of vantage. The Perseid meteor shower of 1995 was particularly 'lumpy' giving rise to a number of bright fireballs which could account for a large number of the ancillary reports throughout the month but does not explain the descriptions from the main sighting. The S family home is not on a geological fault and there are no electricity pylons nearby.
One remaining possibility might be that the exceedingly hot weather during the summer led to some very strange meteorological effects over Gloucestershire although whether similar events have been occurring elsewhere in the country I do not know. Leaving aside the individual observations of the strange glowing lights the social dimension of the whole phenomenon seems to have been just as interesting as the sightings themselves. One family reporting an unusual event to a local paper primed to respond by the presence of a local research group generates TV media interest which in turn generates further reports and follow-up activity. The spectacularly convenient timing of the first sightings, when anyone stepping outside their door after dark was practically guaranteed to see a light in the sky flashing past 'faster than any aircraft', can only be seen as synchronistic. Perhaps on a different level it is equally significant that, just as I started to prepare this piece, I came across a classification of the various sequences or phases displayed in social reactions to disasters. In 'Folk Devils and Moral Panics' Stanley Cohen contracts the standard Chapman seven phase model down to a bare four consisting of Warning, Impact, Inventory and Reaction. In the terminology of this model the Warning phase consists of premonitions and rumours of threat, Impact is the actual onset of the disaster itself, Inventory is the immediate response to the emergency and the final phase covers the long term Reaction to the disaster. Translated into the terms of the Cheltenham flap the Impact phase corresponds to the initial sighting by the S family and Inventory covers the immediate media reaction and, perhaps, the flurry of copycat sighting reports.

The Reaction to the whole sequence of events seems to have been an increase in the willingness of local papers to cover stories of this type, ironically coupled with the complete collapse of the CPRG who were, initially at least, largely responsible for exciting general interest in the sightings. Jenny Randles has written that window areas occur wherever there are local investigators to dig out details from witnesses; evidence from Cheltenham would tend to support this hypothesis and to further suggest that fully-fledged flaps occur whenever a desire for publicity from an individual or group is coupled with a willingness to supply it on the part of the local media. You may be wondering what happened to the first phase of the disaster model. I was conducting a follow-up interview with the S family when I spoke to an ancillary witness, a neighbour I will call W, who had seen an orange ball accompanied by a 'swishing sound' a few days after the Aug 1 sighting.

Interestingly he claimed to have had a dream about a disk and predicted something would happen at the start of August, 4 days beforehand (he was very specific about the four days which is a significant figure for him and told the Mr. S that something would happen 4 weeks or 4 days from his dream). W seems well known to his neighbours for his precognitive dreams... Amanda S later had a very similar dream (after the sighting and after hearing about W's). The S family confirmed that he had mentioned this premonition to them before their sighting which may (or may not) add further levels of allegory or confusion to the whole affair. It is, however, particularly convenient from the point of view of the four phase model. Certainly applying a full analysis of this type to UFO sightings in general may reveal similarities to other, perhaps totally unexpected, forms of wide-scale social events. While I am continuing to follow up leads to further witnesses I have deliberately tried not to come to any conclusions for the events this summer; decide on the reliability and competence of the witnesses (and investigator) as you will.
Silver Cigar-shaped object seen 17/4/96
A British Gas maintenance man from Quedgeley reported seeing a silver cigar-shaped object moving over the A38 near Stroud Water as he drove northwards on the road from Bristol. The time was around 3 PM, the day was warm and there was some light cloud in the sky. He estimated the object to be 3 metres long and 1 metre across and that its height was approximately 100 metres from the ground at a distance of half a mile. His main thought at the time was that he wished that he had not been alone and had someone to verify the sighting! Although he looked for wings or tail fins the object seemed to be completely smooth. Because of its speed he was able to keep it in view for only a couple of minutes before it disappeared.
Strange Creature Spotted 11/6/96
Mike Skinner was driving home from work along the A435 at Gotherington at around 2.25 AM when he spotted what he thought was two poles with a sack draped over the top placed at the side of the road 150 yards ahead. He estimated the overall height of the 'posts' to be 4 or 5 feet. As his car approached he was surprised to see what he had assumed to be the sack drop to the ground and start to move along the grass verge at the side of the road. He slowed the car down to 15mph to try to get a better view of the creature from his passenger window but it crouched down in the long grass and he was only able to describe a large animal of a 'tanned pig-skin colour' with large pointed ears. Although the Gloucestershire Echo (14/6/96) identified this as a UFO-related sighting it seems to bear more of the hallmarks of the 'Beast of Gloucester' than any kind of alien visitor. Perhaps investigation by a crypto-zoologist rather than a ufologist would be more in order...

Crescent Shaped Craft Spotted 29/7/96
"My wife and I were in our garden having lunch when we heard a jet flying overhead towards the south-east...I looked up and saw a crescent-shaped object flying on the same [oppisite] path as the airliner and it looked as though it was the same size. I was sure it was going to crash head on but as I watched it passed over the airliner much higher. ...My wife turned to look where I was pointing (and dropped her lunch on the patio!). 'What the hell is that?' she asked. 'I don't know, I've never seen anything like that before'. It was black and crescent shaped with the speed of a jet fighter but no sound came from it. At first I thought it was a hang-glider but the shape was wrong and no pilot, also it was too large. It flew straight and to the north-west until it was nearly out of sight where it entered a cloud formation. the sound of the airliner could still be heard. This report came from an ex-RAF airman from Cheltenham.
---
Below are our own UFO experiences also seen in different locations in Gloucester

Huge Triangular Craft Spotted by 3 independent witnesses!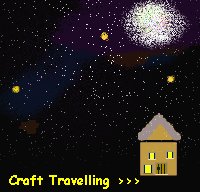 I live in the UK, about 4 miles outside of Gloucester at a place called Hucclecote. On Tuesday 7th Dec, 1999 at 6.30 a.m. I saw an incredibly large craft near my house while taking the dog for a walk. I first spotted a large white light that had many different colours moving shimmering inside it (rather like an oil on water effect). On closer inspection I noticed that what I at first thought was a star formation behind the craft was in fact moving with it, yes, it was part of the same craft. This thing was as big as an open daily newspaper at arms length... we're talking at least 2ft across in the sky... The small lights were flashing in sequence and appeared to be a pinkish orange colour. I could not actually see any solid craft, but the lights that I assume were on its edges were in a triangle shape, but flying with the point at the back!
This is not your normal triangle shape usually reported... I have tried to draw the object in the picture above. I have added the house so that you can see how large this craft was compared to an average sized house! I would estimate the object was approximately a mile above me and completely silent.
I noticed that a guy was walking down the road towards me and he was staring at it too, we didn't at this point talk to each other (I think we were both too shocked at what we were observing) and he passed me and went down an alley (the funny thing is, my dog always barks at people approaching... but not on this occasion?... did he sense something too?). Anyway, after he passed I ran back home to get my brother out of bed to come see it... we went back outside and ran to a motorway bridge which is close to our house... and to my astonishment, this guy had actually doubled back to get a better look at the UFO from the bridge.. the craft by now was just moving over a hill which I guess is about 4-5 miles away from our house... it was still 3 inches wide at that distance... The other guy said he couldn't believe how big it was and that he couldn't hear any noise... that day reports were phoned into our local radio station. And I was told of reports in the local newspaper... although, oddly I couldn't find any of them?. It was due to this recent sighting that I decided to start up this website to share my experiences with other like-minded readers.
HAS ANYONE SEEN ANYTHING SIMILAR??? I WOULD BE VERY INTERESTED TO KNOW
I HAVE ALSO SEEN ANOTHER BIG UFO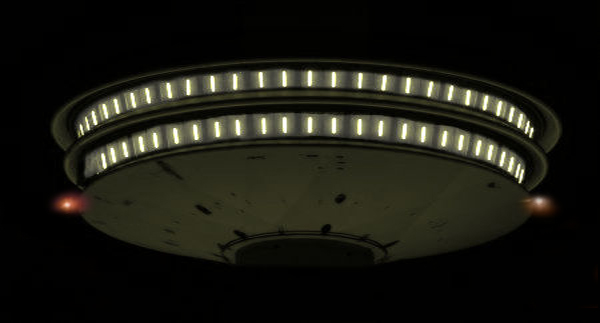 I would like to relate my very first UFO encounter to you, which got me interested in UFOs. This sighting I had when I was about 8 which was around 1975 and we were living at a house in a place called Hardwicke, which is about 4 miles out of Gloucester City. One night I looked out of the lounge window and saw a red light hovering.. didn't think much of it... until the next night...

I was looking at the local newspaper because my older brother and sister wouldn't let me into their room because I had been mucking about.. (my mum and dad were out working at the time) and there on the front page was a story that said UFO's had been spotted over the Forest of Dean which is about 10 miles from our house.
Remembering what I had seen the night before, I decided to look out of the window again. To my amazement I saw a huge craft coming over the field behind our house... at this point I quickly ran to the room where my brother and sister were and almost hammered the door down until they came out... we ran back into the lounge and opened the french windows that led into the garden so that we could get a better look... by this time the craft was almost directly overhead. This thing was shaped like a flying hovercraft...with all the windows lit up and the lights in the windows were revolving... it had a red light on one end and a white on the other.. one at the back ..the other the front... we watched it slowly glide over the house.. it was about 100ft above us and noiseless!!!
I would estimate the size of it to be at least the size of a football pitch... it gradually went over the roof so we decided to get a better look out the front of the house. I would like to point out that it would have taken approximately 5 seconds to run from one side of the house to the other.
By the time we opened the front door... it had gone... no trace whatsoever and we could see quite a distance onto the horizon from there!!! This was my first ever UFO encounter, and I guess you could say that I was lucky that it was a mothership that I first encountered. Since then I have had numerous UFO encounters and would estimate that I have seen at least 20-30 to this day. Both myself, my brother and family also encountered ghosts and strange happenings at this house. I guess its true what they say, that people who attract UFOs also have numerous paranormal experiences??? How about you?
Dave Cosnette
Cosmic Conspiracies Webmaster and UFO Investigator
Reporting a UFO Sighting
Despite decades of official denial and ridicule, UFOs refuse to go away. They continue to be reported world-wide, by a broad cross-section of the community. Gloucestershire is no exception. The problem many observers of anomalous aerial phenomena encounter is: should they report it, and, if so, to whom? Most don't bother, and it is not difficult to see why. The very term 'UFO' has connotations of weird and fantastic encounters with extra-terrestrial beings. Many people simply don't want to be associated with this modern mythology, even if they have had an experience that has had a profound effect on their lives. They might venture to tell close friends and relatives about their sighting. They are less likely to risk exposing their story to the more public areas of their lives; work, school, social organisations, etc. Few, indeed, will feel confident enough to take their remarkable story to the authorities. (Nevertheless, many do, which gives us an indication of how wide-spread the phenomenon really is). Yet this reluctance to discuss this subject belies a remarkable fact. Poll after poll indicate that the general public increasingly believes that there really is something to the UFO mystery. That we have been, or are being, visited. That other life-forms are 'out there'. Yet society as a whole continues to be in a state of denial, and the fetters we all feel with regard to discussing this subject are still very much in place. It is a peculiar situation, that a subject that is a social taboo, albeit a minor one, remains immensely popular. Again, this could indicate that a reality underlines this phenomenon, and that, eventually, efforts to discover the nature of UFOs will not be in vain.
I am a nurse. On occasion, I get the opportunity to discuss this subject with other members of staff, perhaps on one of our all-too-rare coffee breaks. A pattern has emerged. My work colleague will often enjoy a little joke and a laugh about 'little green men', or whatever. Then they'll say, "I had an interesting experience a few years ago" or "My aunt saw something absolutely amazing back in 1980" and so on. Before long, I find myself trying to rationalize a UFO encounter whilst my work colleague is doing a 'Mulder and Scully'. Quite the reverse of what most people would think. (UFO researchers are generally considered to be zany and eccentric folk with a rather tentative hold on reality. The truth is rather more mundane, of course). The point is that many people, once the initial social taboo barrier is lifted, are fairly open-minded about UFOs, even fascinated by them. One thing is for certain; observers of UFOs don't forget them in a hurry. The effect on their lives can be quite acute, even causing a 'paradigm-shift' of sorts. 'This Is Gloucestershire' have kindly linked their UFO pages with a web-site called 'Cosmic Conspiracies'. Its rather grandiose title hides a 3-man team of UFO enthusiasts from Gloucester; myself, and my very old friends, Dave and Martin, who are brothers, and run a small business in the city. We have studied this subject for many years, and are pretty knowledgeable about most aspects of it. If there were qualifications in UFOlogy, we'd be at degree-level, I guess. Our web-site is now on all the major Internet search engines, and is affiliated with some of the most prominent researchers, authors and UFO web-sites in the business. We take hundreds of hits a week from all over the world. We'd like to offer the people in this area the opportunity to share their experiences with the wider UFO community on the web. We will also work closely with 'This Is Gloucestershire' to bring the local UFO stories to the people of this county, placing them within the context of the world-wide UFO phenomenon. If you've never felt ready to discuss your encounter with anyone outside your inner circle of family and friends, then we hope this offers you the chance to air your experience. Confidentiality is assured. We may not be able to give you a definitive answer to what it was you encountered, but we will be able to give you support and whatever information we can.