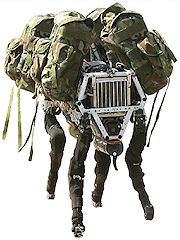 It appears that DARPA (US Defense Advanced Research Projects Agency) has been busy since we last wrote about their research into morphing metals. Their latest invention is called 'BigDog', which is a quadruped robot that walks, runs, and climbs on rough terrain and carries heavy loads. BigDog is powered by a gasoline engine that drives a hydraulic actuation system. It's legs are articulated like an animal's, and have compliant elements that absorb shock and recycle energy from one step to the next. BigDog is the size of a large dog or small mule, measuring 1 meter long, 0.7 meters tall and 75 kg in weight.
BigDog is being developed by Boston Dynamics with the goal of creating robots that have rough-terrain mobility that can take them anywhere on Earth that people and animals can go.
Marc Raibert, the president of Boston Dynamics, said: "Internal force sensors detect the ground variations and compensate for them. And BigDog's active balance allows it to maintain stability when we disturb it."
Current models of BigDog are remote-controlled from army bases by commanders. However it is thought that future versions will be built with eye-like sensors that allow it to become "unleashed" by making intelligent decisions about a journey. The program is funded by DARPA.