This section is dedicated to readers ghost pictures. We always love to read your ghost stories and see amazing pictures of paranormal phenomena. If you would like to be included on this page please send your story/ghost pictures to gloster_ghosts@hotmail.com
Our first picture (above left) was sent in by Dawn Scargill who took this photo whilst on a ghost hunt in Lincoln on 21/04/06. She had gone out ghost hunting with her twin sister Tracy around the Cathedral and Bailgate area. At around 9.42 pm she took several photos with her new digital camera at the top of Greestone steps, and captured this strange anomaly on film.
They both realised that they had captured a weird mist on one of the pictures, but could not investigate further until they transferred them onto computer. The picture appears to show the image of a horse and rider galloping through the air. According to Dawn, a ghost rider has been sighted on several occasions over the years in the area and also the sound of horses hooves have been heard on the cobbles of Castle square. The photo has been published in the Lincolnshire Echo. If you look at the photo, just to the right of the sign post you will see the horses head with eyes, nostrils and ears seen clearly. We have enhanced the horse and rider image (above right) to show what you should be looking at. The two photographs that Dawn took either side of this picture do not show the strange mist or any other unusual feature.
The next picture comes from Bill Gowland who hails from Royston,Barnsley in the UK. Bill has been interested in paranormal activity for a large number of years and just recently has been experiencing some very weird goings on.
Bill originally lived in Harrogate and met his wife there before moving to Royston 18 years ago. Bill had never met his wife's father who had passed away before they moved, but had got to know his mother-in-law before her death. Roy recently purchased a digital camera on Ebay and found that he was capturing orbs on film. Because of his interest in the supernatural he decided that he and a few friends would venture to Felkirk cemetery, the place where his late mother-in-law was buried, to see if they could pick up paranormal phenomenon on camera. On their first visit Bill captured a nice selection of orb pictures, and it was decided that a second visit to the cemetery was in order. Bill, his wife (Clarice) and their friend Michael, ventured to the site for a second time hoping to capture something unusual on camera - they were not to be disappointed!
The picture to the left shows Michael, Clarice and an unknown entity (behind Clarice) at the cemetery. The figure behind Clarice was not spotted until the group later analysed the film. There are also many orbs in this shot which is interesting. Bill has shown the picture to relatives and they believe the figure to be Clarice's father. But the story doesn't end there...
Excited by their find, Bill and his wife returned once again to the cemetery, with their friend, Jim, who had accompanied the group purely because of his interest in photography. Jim, now retired, had once worked for the local newspaper, covering wedding etc. It was not long before Jim had his hat lifted off his head in a friendly brush which landed 4 feet in front of him. This was highly surprising to Jim, who beforehand had been a little sceptical towards the realm of the supernatural.
Bill decided to visit the cemetery for the third and final time, again with Clarice and Jim. Jim felt very uneasy immediately from the time he got out of the car, and it wasn't long before the rest of the group realised that he seemed to be in a world of his own and took no notice of anybody calling him. Bill went over to him and touched his arm and asked him if he was ok, to which he answered 'yes'. The next morning Bill rang him to see what had happened and he reluctantly explained that he had been listening to Clarice's mother and he also saw her and asked if Bill had any photos he could see. The amazing thing about it for him was that she told him about a family dispute that had happened many years ago which he had no insight into, which Bill could confirm.
Here are some more pictures from Bill's collection.
This picture was taken with Jim's camera
and shows some spectacular orbs.

Another fantastic picture of a strange vortex mist.

A strange mist and two bright orbs.
Here's another set of pictures sent to us by Jacky, a ghost-hunter from Gloucester who has also been snapping some extraordinary digital photos in churchyards in the area.
| | |
| --- | --- |
| | |
| Taken in Hardwicke Churchyard in November 2005. A puzzling yellow streak of light seems to join up a distant light source with the foreground of the photo. | Compare with this image previously shown on our website. This seems to be a camera effect distorting the light. |
It seems likely that this kind of light distortion effect is a camera-orientated anomaly, probably due to some small movement at the time of taking the image. Otherwise, it is hard to reconcile how the Hardwicke light streak could simultaneously be sourced in the background and the foreground of the photo.
These three images were taken during a later ghost hunt at Edge Church. Jacky said that this environment was by far the creepiest of the locations she visited. The area was completely dark, and her daughter, who was also participating in the ghost hunt, felt very uneasy there. The white line in the first photo is presumably a foreground object, like a thin camera strap, caught in the fierce light of the flash. We see a similar example in another photo in a moment. The orbs are more interesting from a potentially paranormal point of view. And notice that wonderfully phallic tombstone in the right-hand photo (I've rubbed out the name on the stone to protect the identity of the person interred under this remarkable piece of sculpture).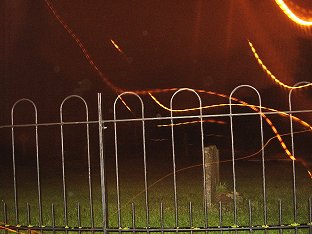 This image, taken at Quedgeley churchyard in December 2005, contains a number of competing effects. The environment is well lit, so these light streaks are likely to be the same kind of camera-induced effect playing off these bright light sources located above the photo. But notice how the lines are broken up in this instance. The red haze is more interesting, though; not a particularly common feature of these night-time photos, even when light sources are present. Then there are a set of orbs. Quite an interesting photo, we think.
These images, again taken by Jacky in December 2005, are at Ebley Churchyard. In the left-hand photo we have more examples of the distortion of 2 distant light sources behind the trees, which are presumably street lamps. Again, the distorted light moves across the foreground in front of the trees. Jacky suspects this effect is something to do with the way she's taking the photos, and we tend to agree. The brush-like patterns of the red mists are more difficult to explain. That white line on the right-hand photo is seen closer up this time, and seems to be a camera strap with an accompanying fingertip. Both photos show reddening, which is particularly acute in the right hand picture. Here it is almost seen to come out of the ground, with the appearance of an aurora. The yellow light streak which is also present may indicate a bright light source above the photo, although it seems to be a distant light source if it is, and thus incapable of creating the red mists.
Thanks to Jacky for these wonderful images!